company_newsAre you here: >company_news
The first section of the community into the embroidery Xingsha Town Community
2015-02-04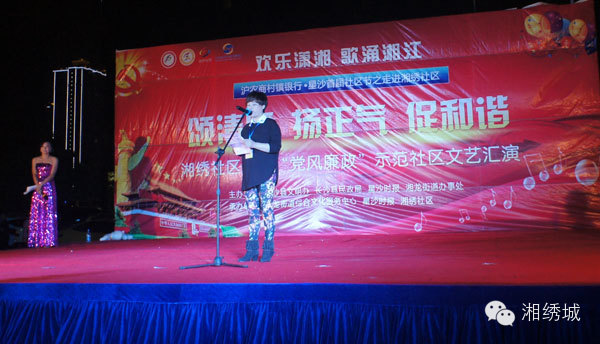 Embroidery City community to speak at the party secretary Liang Xueling
Bamboo straight and the United States, people with positive respect, the country is strong Lim. The evening of September 29, Kaiyuan West street, crowded on Embroidery City Plaza, one of laughter, one by one carefully prepared program won the scene bursts of applause residents. This is a the "Ode to clean, Young righteousness, and promote harmony" as the theme theme party. County Civil Affairs Bureau, Xingsha Times, Xianglong Subdistrict Office hosted by Changsha County, Civilization, Xianglong Subdistrict comprehensive cultural service centers, Xingsha Times, Embroidery City community hosted the "Shanghai Rural Commercial Bank · Xingsha First Community Village Festival long Xiang embroidery walked the streets of the city communities "was held in this.
To push forward the fight against corruption, and strengthening the community honest cultural construction, build quality Xianglong Subdistrict highlight of the project, the National Day is approaching, Embroidery City community to create a clean government demonstration boost community as an opportunity to combine mass culture Changsha County activities "Happy song Chung Xiangjiang Xiaoxiang," and strive to create a positive social atmosphere Delicate gas.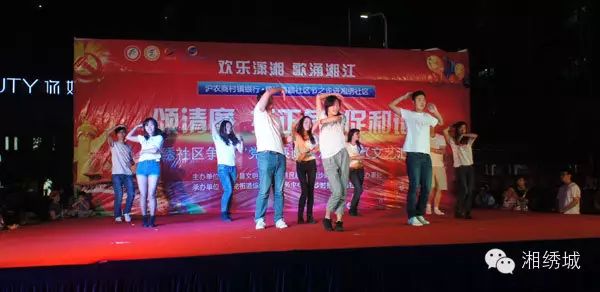 Vibrant "Little Apple" dance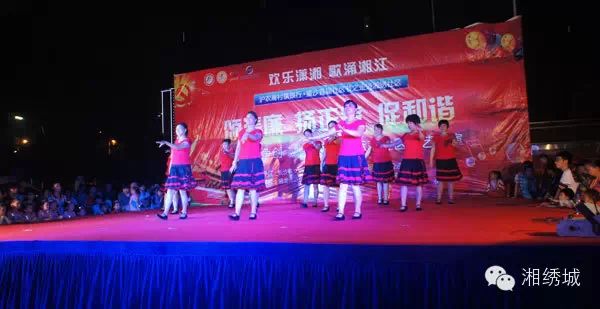 Community aunt who graceful Square Dance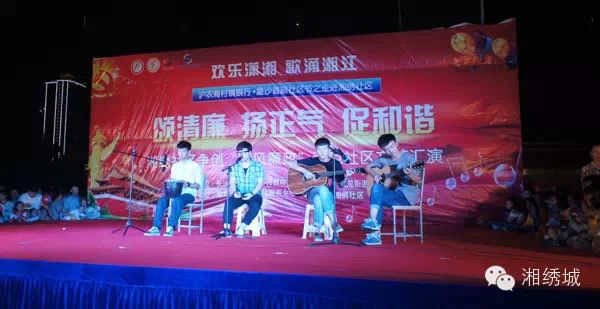 The band performed a combination of college students
"Party have fun, there are bright spots. I hope more do such a good activity, so that everyone have fun." Until the end of the evening, many people lingered to watch the program.
Embroidery City Community introduces the basic situation:
Embroidery City community was established in June 2011, located in Changsha, Hunan Province mayor sa Xianglong Subdistrict Wanjiali Road east, south Trinidad Road, west of Beijing-Zhuhai high-speed, north of Century Road, Embroidery City C6 Building . The area has Embroidery City, Merrill water gun, Dream Park District, a total population of about 30,000 people. Embroidery community within the city there were fifty or sixty embroidery company, is the country's largest non-material cultural research base. Community will continue to strengthen community-based social construction and social management, improve community services and enhance residents' health awareness, fully integrated area resources, combined with the actual situation in the community, and vigorously promote community building, community development and strive to become perfect service, beautiful environment and convenient living, good order, harmony and harmonious interpersonal homes.
Embroidery principle city communities through various forms, multi-level mass cultural activities, promoting community people, to guide people in the community of civilized behavior and the pursuit of high moral community based on "management simultaneously, focusing on service" Embroidery City community to actively expand services function, so that every resident to feel the warmth of the community. Set up a "four-thirty class", the children can come after school and community, "Lei Feng Shuba" homework, reading, there are community workers, accompanied by a high-grade brother and sister counseling. The service of other communities throughout the work, so that community residents Embroidery City reputation, fully embodies the new era, the community level under the new situation, the real community Embroidery City is my home, we rely on the building.
下一篇:无